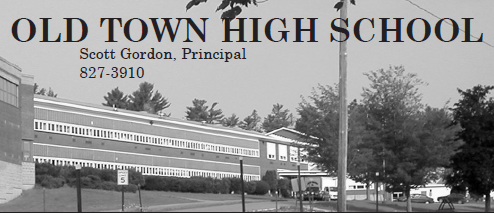 Principal's Message
Scott Gordon
Sunday, August 26, 2018
Greetings from Old Town High School!
I hope you all had a great summer. The faculty, staff, and administration at Old Town High School are very excited about the upcoming school year. Like every summer before this one, the summer days have come and gone much too quickly. Our custodial staff is currently in the process of cleaning the entire building and finishing up some minor repairs. The school will look great for day one, as it always does. This summer, we had no major renovations to the building, but the student parking lot was torn up and repaved. It looks amazing, and really improves the "curb appeal" of OTHS.
Our first school day will be on Wednesday, August 29th and will be for grade 9 only. This day gives a chance for our newest high school students to become acquainted with the building, the teachers, and many of the nuances of high school life. They will run through an abbreviated schedule, take part in some planned activities, have lunch and by the end of their day it is our goal that they leave feeling very comfortable in their new surroundings. This is only a half-day for our grade 9 students. On Tuesday September 4th, all students in grades 10 through 12 will join them in our first full day of school.
Old Town High School will welcome one new teacher to our staff this year. Mrs. Lynn Rush has been a Special Education Director and teacher for many years. She brings a great deal of experience and her tremendously positive spirit to OTHS. We are excited to have her join us.
We will be placing a great deal of emphasis on attendance this year. We know that students who attend regularly succeed in the classroom much more readily than students who do not. Attendance means being at school on time as well, as students at the high school level are formulating habits that will remain with them into early adulthood. I will go over the new procedures and guidelines for attendance at OTHS with each class on the first couple of days of school. In addition, I will share the information with our parents via a letter home and through our social media platforms.
Our fall sports programs are gearing up for another exciting season, and we are super excited about our first home contests. We would love to see our community come out and support all of our Coyote teams. We encourage our students to take part in our wide variety of activities, whether it be one of our sixteen sports teams, our widely renowned band program, our JROTC battalion which regularly garners the "Honor Unit with Distinction" accolade, or our highly competitive Robotics team, there is something to offer everyone and involved students are better students.
We are very excited for the 2018-2019 school year and all of the new and exciting ways that we can engage and connect with our students.
Scott W. Gordon

OTHS course syllabi are now online; explore our curricula at:
https://rsu34-public.rubiconatlas.org/Atlas/Public/View/Default