EDIT MAIN
Since on-campus tours have been temporarily suspended, please use the following links to visit all of Maine Colleges and Universities through virtual tours, interactive maps or admissions information:
Bates College
https://www.bates.edu/admission/virtual-tour/
Beal College
https://bealcollege.edu/book-tour/
Bowdoin College
https://www.bowdoin.edu/admissions/visit/virtual-tour/index.html
Central Maine Community College
https://www.cmcc.edu/admissions-aid/admissions/schedule-a-visit/
Colby College
https://www.youvisit.com/tour/colby
College of the Atlantic
https://www.coa.edu/admissions/visit/
Eastern Maine Community College
https://www.emcc.edu/virtual-tour/
Husson University
https://www.youvisit.com/tour/husson
Kennebec Valley Community College
http://webarchive.kvcc.me.edu/Pages/Admissions/Visit-KVCC
Maine College of Art
https://www.meca.edu/virtualtour/
Maine Maritime Academy
https://mainemaritime.edu/admissions/undergraduate-admissions/connect/
Northern Maine Community College
https://www.nmcc.edu/about-nmcc/campus/campus-overview/
Southern Maine Community College
https://www.smccme.edu/admissions-aid/visit/
St. Joseph's College
https://sjcme.college-tour.com/
Thomas College
https://www.thomas.edu/virtual/
Unity College
https://www.unity.edu/admissions/visit-unity/virtual-tour/
University of Maine at Augusta
http://university-tour.com/maine_augusta
University of Maine at Farmington
https://www.umf.maine.edu/admissions-aid/visit-us/
University of Maine at Fort Kent
University of Maine at Machias
https://machias.edu/admissions/virtual/
University of Maine at Orono
https://go.umaine.edu/virtual-tour/
University of Maine at Presque Isle
https://www.umpi.edu/admissions/virtualcampustour/
University of New England
https://www.une.edu/about/tours
University of Southern Maine
Washington County Community College
https://www.wccc.me.edu/admissions-aid/admissions/visit-wccc/
York County Community College
https://www.yccc.edu/admissions-aid/process/visit-college/
If you have any questions, please contact Ms. Dow at amy.dow@rsu34.org
---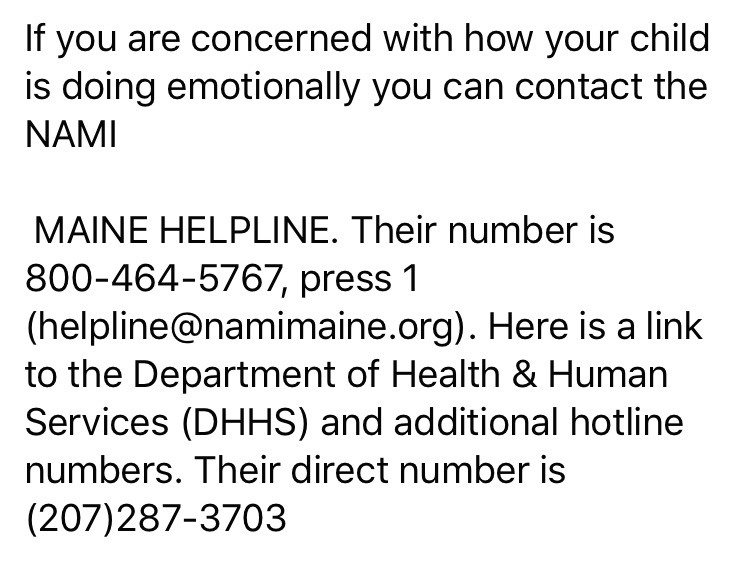 ---
-Virtual Visits: Here is a hot-off-the press virtual tour of Husson to share with students: https://vimeo.com/408147869
-Husson transitioned its Accepted Student Days to virtual events; our next Virtual Accepted Student Day is on April 24th. We also have a Virtual Open House on Saturday, April 18th. (All events start at 10 am and last for about an hour.)
-Students can contact me at haskinsjo@husson.edu or text or call at 207-478-6689 to arrange Zoom sessions with professors in programs they have interest. I will also be glad to Zoom or speak with any accepted student who has questions. I can also arrange virtual tours of Husson with students and families.
-Tuition Deposit for Incoming Freshman or Current Seniors:
The tuition deposit priority deadline has been moved from May 1st to June 1st, 2020. Please note that while May 1 has traditionally been the priority deadline, given the recent situation with COVID-19 we have extended it to June 1st. Some programs, however, may reach capacity quickly, so we encourage students to submit their deposits as soon as possible. Please have them call me or the Husson Admissions Office at 207-941-7000 if they need more time.
-For fall 2021 applicants (current juniors/rising seniors):
Husson University will not require submission of SAT or ACT scores to apply for undergraduate admission with the following exceptions:
Nursing Applicants
Applicants of Undergraduate Direct Entry to Occupational Therapy, Pharmacy, and Physical Therapy
Home-School Applicants
---
For all Scholarships:
If it is a scholarship that has an e-mail address attached to it, please send the e-mail address to your school counselor (along with the name of scholarship) and we will e-mail the official transcript and letter of recommendation and you can e-mail your application directly.
If there is not an e-mail and you received the scholarship from guidance, you can either take a picture of the completed scholarship application or scan it and send it to your school counselor in an e-mail OR you can make a word document and put all the necessary info on the word document that the scholarship is asking and then send your school counselor the word doc and we will staple that onto a hard copy of the scholarship and send it off with transcript and counselor recommendation (and teacher recommendations if needed)
If any teacher recommendations are needed for scholarships, please alert your school counselor and let us know what scholarship it is and then have the teachers e-mail us the recommendations directly and we will send off either to the e-mail or to Mrs. St. Louis to mail out for you with your application.
IF you have ANY questions at all, don't hesitate to contact us via e-mail or through our google form:
https://forms.gle/mKH21Aoujeff1Bf4A
Or via text/call through Google Voice: Mrs. Ketch: 207-370-7008 Mrs. Martell: 207-370-7252
Link to Scholarships: https://drive.google.com/drive/folders/1LMpfx6yN5tZ9KcaTzTicB4meCl34KANE?usp=sharing
---
Please let parents know to contact Jennifer Goodwin at 207-370-8564 if they need food or some house staples from the resource center..she will work with families to get them delivered if needed.
---
Updates from UMaine for Seniors:
We have suspended all campus tours until April 6th and will likely be extending this date soon as more schools are extending their closures as well. We will continue with regular visits as soon as possible.
All of our major Accepted Student Days on campus will not occur in their regular format. Instead, we have launched a virtual option for our accepted students to get all the information they need. This page will provide a welcome from University of Maine & University of Maine at Machias President Joan Ferrini-Mundy, a virtual general tour of UMaine, specific departmental and academic virtual tours, financial aid information, opportunities to register for one on one meetings with admissions professionals or staff members, submit an enrollment deposit and anything else they would normally do at an on-campus event. Students can find these resources at: https://go.umaine.edu/virtualuniversityofmaine/
SAT/ACT Update: In light of the fact that many students will be unable to take a test in the upcoming weeks, especially students that may have not yet taken one we have made a big decision: UMaine will be test-optional for this year's admissions cycle, for all programs except for Nursing. Any applicant that is currently being held as incomplete due to missing test scores will immediately be reviewed for admission. If you have any students who haven't applied due to concerns with their test scores please encourage them to apply, or if you have any students who feel their decision already on file may change under this new policy please encourage them to reach out to the admissions office.

NOTE: Our merit program will remain in its current structure. Maine students who do not submit SAT scores will be issued the Black Bear scholarship for $1000.

Confirmation Deposit Update: Since many families will potentially be negatively impacted financially due to the COVID-19 crisis UMaine has made the decision to lower our $300 enrollment deposit down to $50 for the remainder of this admissions cycle. Our intention with this is to ensure that those students who want to attend UMaine are not delaying their confirmation out of financial concerns over the enrollment deposit.

NOTE: Any students who have already submitted the full $300 enrollment deposit should not be concerned. 100% of the deposit is applied to their student bill so they receive the full financial benefit of having paid the deposit.

---
OTHS School Counseling Services
Your OTHS School Counselors are still here to meet both parent/guardian and student needs remotely! If you have questions or need support in the following areas: academic, graduation requirements, college/career, FAFSA, scholarships, social/emotional, personal matter, resources, etc., parents/guardians and students can contact us:
**Mrs. Kim Ketch (students with last names A-K): Email: kim.ketch@rsu34.org
Phone (Monday-Friday 10am-2pm): (207) 370-7008 *Confidential line so you can leave a message
**Ms. Jami Martell (students with last names L-Z): Email: jami.martell@rsu34.org
Phone (Monday-Friday 10am-2pm): (207) 370-7252 *Confidential line so you can leave a message
Parents/Guardians and Students also are encouraged to fill out this google document so we can be better prepared to meet your needs: https://forms.gle/Dv6p5RULYkoVrH5n7
IF IT IS AN EMERGENCY SITUATION:
*Call 911 or the Crisis Hotline at 1-888-568-1112
Other Hotlines:
*National Suicide Prevention Lifeline 1-800-273-TALK(8255) OR text HOME to 741741
*Child Abuse Hotline 1-800-452-1999
*Domestic Violence 1-866-834-HELP(4357)
*Info about Local Programs and services dial 211