On December 5th, there will be a Family Code Night at the Alton Elementary School. All 2nd-5th grade students in RSU34 are welcome to participate in this exciting event! The fun will start at 6:00pm. Please call the Alton school at 394-2331to RSVP if you will be able to join us! Let us know if you would need a device for the evening; tablets, chrome books or laptop...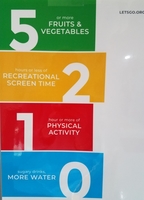 This fall, there is a new "track" behind the school! Students are following the footprint trail and racking up miles! From pre-k through 2nd grade, students are earning "toe tokens" for running or walking. Teachers track the laps and students add up the mileage. As they earn the tokens, they keep them on a chain to show the great effort they have put in! Students ...
If you like hazy, hot and humid weather, this was a fabulous summer! As much as I hate to see the leaves start to change and temperatures drop, I am excited to get back to the routine of welcoming students to school each day! Students will be surprised to find we have shuffled staff to different classrooms over the summer. This reason for this is the large incoming ...