RSU #34 COVID Hotline: To report a confirmed or suspected case of COVID-19 in the RSU #34 community, call 207-827-7171 and choose menu option Zero.
Please be sure to do the home screening each and every day! https://www.maine.gov/doe/covid-19/toolkit/prescreen
RSU #34 is not a community testing site for COVID-19. DO NOT get on the bus or come to school if you have symptoms. DO contact the school by phone or email for guidance.
RSU #34 and its schools are actively responding to our global challenge, in partnership with and in coordination with other state and local entities. For the latest information about actions to keep safe and SLOW THE SPREAD, please visit the CDC: https://www.cdc.gov/coronavirus/2019-nCoV/index.html
*Maine Statewide Crisis Hotline 1-888-568-1112 and the Crisis Text Line (everywhere) is - text HELP or HELLO to 741741
*NAMI (National Alliance on Mental Illness) Maine helpline 1-800-464-5767 or www.namimaine.org
*Partners for Peace (for people experiencing domestic violence) 800-863-9909 and www.thehotline.org*National Suicide Prevention Hotline 800-273-8255 or text HELLO to 741741
*SAMHSA National Helpline for substance use: 1-800-662-4357
*www.aa.org you can get contact info for AA near you
*www.na.org Narcotics Anonymous
*Bangor Area Recovery Network (BARN) https://www.bangorrecovery.org/*New Horizons Detox Center 207-941-1612
*Trans Lifeline 866-488-7386 or https://www.thetrevorproject.org/get-help-now/ or text START to 678678
RSU #34 Educators are working hard to meet students' physical, academic, social, and emotional needs. We're taking a layered approach of precautions to help us avoid exposures/infections, and to minimize quarantines. Please help us keep our students in school, learning five days a week!
Thank you very much for your support and patience as our community navigates the pandemic together. Please do not hesitate to reach out to school or district staff at any time.
Most of the State of Maine guidance can be found here: https://www.maine.gov/doe/covid-19/toolkit
Maine's Standard Operating Procedure (SOP) is a key document at that site, which outlines requirements for schools: link

Addendum: Vaccination makes contracting COVID much less likely, with typically more mild symptoms, and makes the chance of severe illness or hospitalization extremely rare. It is still possible for vaccinated individuals to contract COVID and transmit COVID to others.
Beyond the requirements of Maine's SOP:
*RSU #34 strongly encourages vaccinated individuals who have been exposed to COVID-19 to consider voluntary quarantine until they receive a negative test result on a timeline described by the school nurse.
*RSU #34 strongly recommends that those fully vaccinated students who have unusually long exposure to a positive person quarantine until 10 days after the last exposure. An example of this would be a fully vaccinated student who has a household member that tests positive for COVID-19. Staff members, please contact your school nurse for guidance.
Requirements for vaccinated individuals who develop symptoms or test positive for COVID are described in the SOP; please stay home from school and contact the school for guidance.
Other details can be found on the RSU #34 Fall 2021 Plan for Safe Return to In-Person Instruction and Continuity of Services: https://5il.co/zh9t
RSU #34 conducts optional pooled testing, which will help detect cases of COVID-19 early, and will help many students avoid quarantines. If you'd like to sign your child up to participate in pooled testing, please contact your school office for more information.
We piloted pooled testing with five classrooms the week of Sept. 13th; it could not have gone more smoothly! We are now up to full capacity in all schools.
How Positive/Likely Cases Are Handled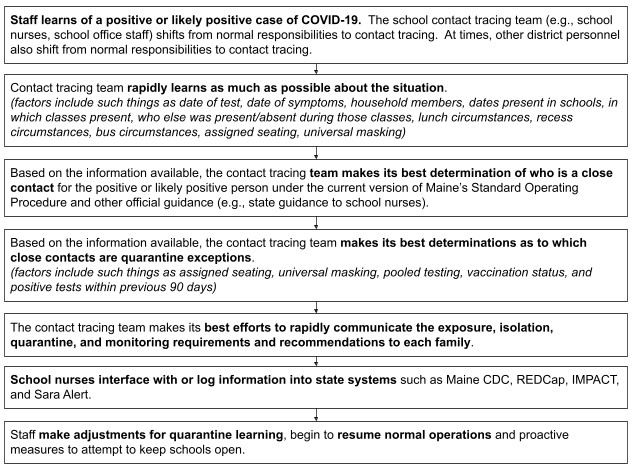 Dear RSU #34 Families and Staff,
This notice is to inform you that RSU #34 has identified positive and/or likely positive cases of COVID-19 in its schools. All close contacts have been notified and advised of next steps such as quarantine, symptom checking, and testing.
As always, please remember to conduct daily screening, and use our COVID hotline when you learn of a positive or likely case of COVID-19 in our school community. We thank you for your efforts to keep our schools safe and open!
For general Covid-19 questions, please dial Maine's helpline at 211 or 1-866-811-5695. Questions for the school nurse may be asked by emailing or calling them.
Alton Elementary School and Leonard Middle School: Nurse Vanessa Koch (vanessa.koch@rsu34.org)
Viola Rand Elementary School (Bradley) and Old Town High School: Nurse Jana Caron (jana.caron@rsu34.org)
Old Town Elementary School: Nurse CeCe Costello (cece.costello@rsu34.org)
You can also text your zip code to 898-211 or email info@211maine.org. Please call your healthcare provider with questions about symptoms. More information can be found at www.maine.gov/dhhs/coronavirus or www.cdc.gov/coronavirus.
Sincerely,
David A. Walker, Superintendent of Schools
General Information follows:
Covid-19 is a respiratory illness that may range from mild to severe. Some people may be asymptomatic (no symptoms at all,) but may still test positive. Covid-19 may be more severe in adults 60 years and older and anyone with underlying health conditions. The virus mainly spreads through droplets and aerosols, such as when an infected person coughs or sneezes and an uninfected person breathes in the virus. Signs and symptoms of Covid-19 may include:
*Lower-Risk: New headache, myalgias, runny nose/congestion, nausea/vomiting/diarrhea. Any of these beyond typical (e.g., allergies).
*Higher-Risk: New, uncontrolled cough. Shortness of breath or difficulty breathing (not exercise-induced asthma). New loss of taste or smell. Fever (100.4 or higher), chills, rigors. Sore throat.
The Maine CDC recommended preventative measures to help prevent the spread of Covid-19. This includes:
*Wearing a mask in public and increased hand hygiene measures.
*Washing your hands with soap and warm water after using the bathroom, before and after eating, after blowing your nose, coughing or sneezing.
*When soap and water are not available, use an alcohol-based hand sanitizer with at least 60% alcohol.
*Avoid touching your eyes, nose, and mouth with unwashed hands and avoid close contact with people who are sick.
*Cover your cough or sneeze and disinfect your hands afterwards.
*Clean and disinfect frequently touched objects and surfaces using a regular household cleaner or wipe.
Livestreaming or Recording Classes
RSU #34 Educators will be working hard throughout the year to meet the needs of all students, who are participating remotely while in quarantine or in-person. In order to meet those needs, teachers MAY be "livestreaming" or recording parts of the school day to effectively and efficiently engage students who are present, participating remotely, and absent for the day.
There are many factors involved with choices to livestream or record live instruction, including the topic/content at hand, the appropriate instructional method for that content, and the needs/permissions of the students.
Even if a camera is focused on the teacher, live-streaming offers no protection against a blurted name. Any school district has a number of students with active custody disputes, protection from abuse orders, etc. Many students have some level of anxiety about being on screen; live-streaming a class may open up participation for some and close it for others.
If you have concerns about your child being in a room that is livestreamed or recorded, please contact your school administration in writing before the school year begins.