The Science Lab at the University of Maine has some openings for PK - 3rd grade students from RSU #34 schools. This is an after-school opportunity once a month in the fall. To learn more please check out this link (
https://5il.co/1ecxo
), and if you're interested in registering please contact Joanne Alex (her email is on the linked document). We're fortunate to have so many opportunities for kids in our community!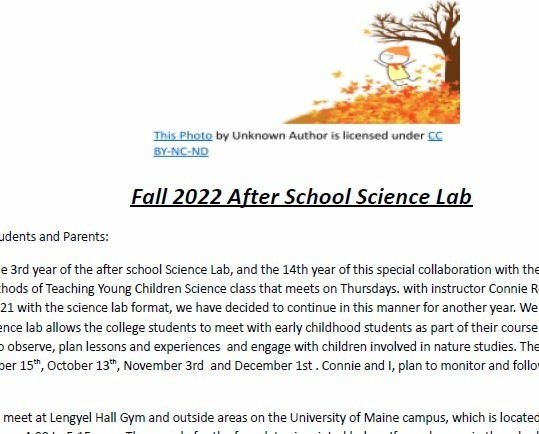 RSU #34 is revising several plans in coordination with needs expressed by the public, staff, and School Board throughout the winter and spring. We appreciate all who have provided feedback / input so far through Board meetings, PTC meetings, web surveys, and public sessions. To provide additional feedback, please email Dr. Doty:
jon.doty@rsu34.org
Plans under revision to address expressed needs include: *ESSER II (federal funds related to COVID recovery) *ESSER III / American Rescue Plan (federal funds related to COVID recovery) *RSU #34 Comprehensive Needs Assessment and Consolidated Plan (this document is related to our use of federal funds under the Elementary and Secondary Education Act) *Comprehensive Needs Assessment and Consolidated Plans for Alton Elementary School, Viola Rand Elementary School, and Old Town Elementary School (these documents are related to our use of federal Title I funds under the Schoolwide Program at each of these schools) Thank you for your input!

Regional School Unit #34 Annual Budget Meeting May 25, 2022 7:00pm Leonard Middle School Cafeteria

At-Home COVID Tests for RSU #34 Students and Staff RSU #34 received today a shipment of at-home COVID tests for its students and staff. Over the course of the next week your child's school will share how to request these tests (each student is eligible for three boxes of two tests). These at-home tests can be a powerful way to help slow the spread of our current surge, and keep our community/state safe. Please also remember to do daily symptom screening with your child each and every day, and keep kids home when they're sick! We do not anticipate another shipment like this, even in the fall, so please be sure to also take advantage of the state and federal programs for free delivery of tests.
https://special.usps.com/testkits
and
https://accesscovidtests.org
Please be patient with us, as many requests will come in to each school at once. Thank you!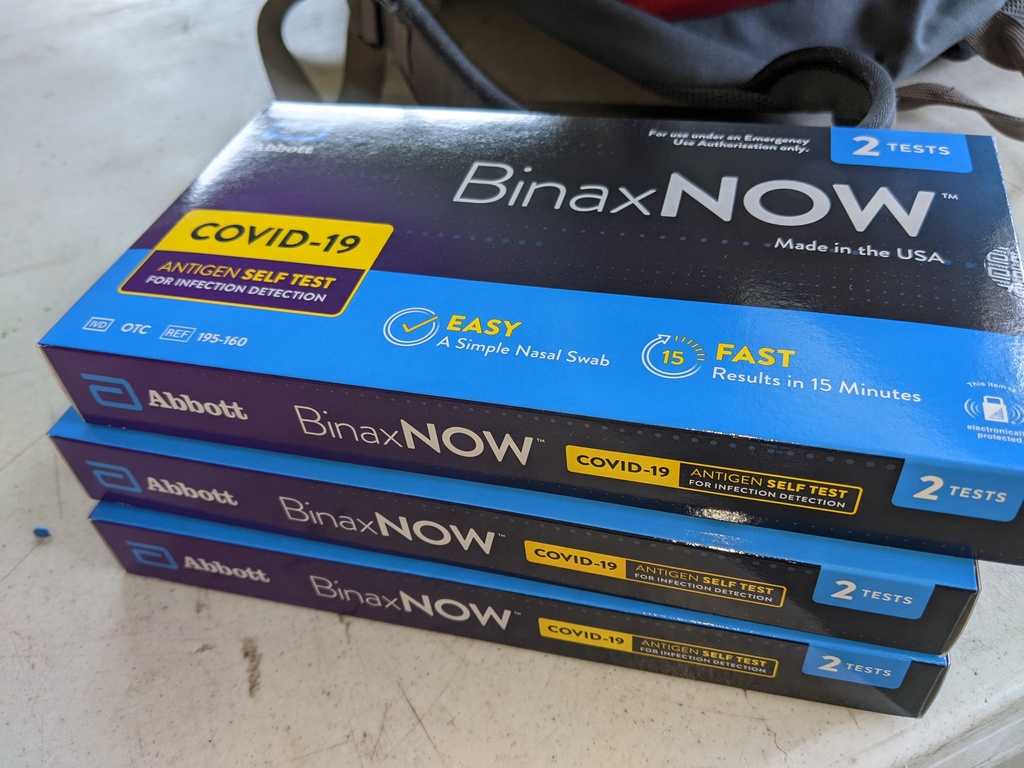 We are proud to present our Spring 2022 issue of Community Connections. Along with the stories and photographs about our students, we are pleased that there are many pages with municipal information; the City of Old Town once again shared space and cost with the RSU for this issue. Finally, in this issue you will find the proposed budget for 2022-2023, along with information of how to be involved at the Public Budget Meeting and budget referendum. Many thanks to those who contributed to this issue - we had so many articles/photos that we needed to save some for the back-to-school issue in August! Here's the link to the issue:
https://5il.co/1ai4q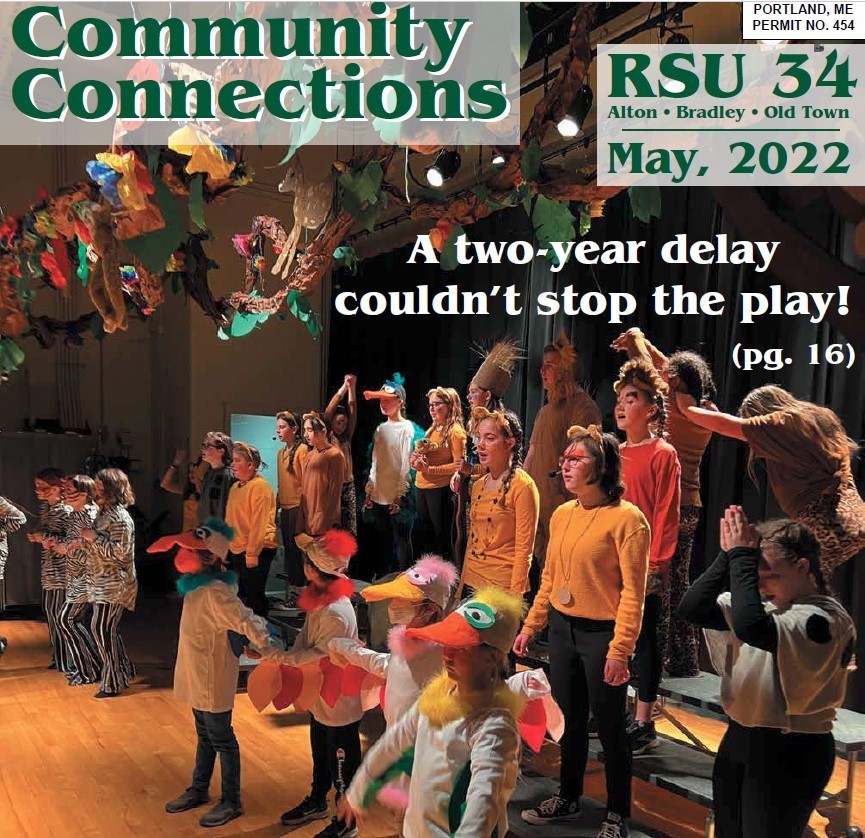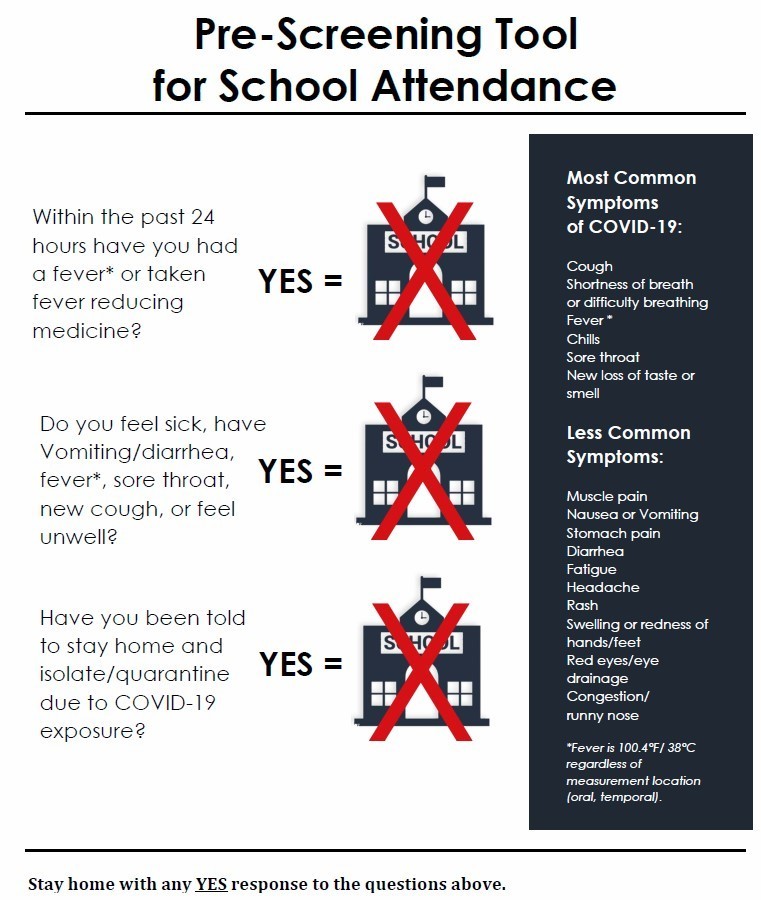 School and Student Safety Yesterday we were informed of a possible threat to the safety of our schools. We immediately initiated an investigation. In cooperation with the Old Town Police Department, we determined that a comment overheard by a student was perceived as a safety threat. The student did what we ask students to do, "If you see or hear something, say something." Fortunately, there was no criminal or credible threat to the safety of our students. Nonetheless, the comment was perceived as a threat and as such, will be dealt with administratively. RSU#34 maintains our high-level commitment to the safety and wellbeing of all students and staff.

March 9th, 2022: RSU #34 has released new COVID protocols. Please read them in full here:
https://5il.co/16xq8
Summary: Dear RSU #34 School Community,  RSU #34 shares the following adjustments to our COVID protocols, in light of the state of Maine's shift in indoor masking recommendations, and the subsequent RSU #34 School Board vote to make masking optional in our schools.  We still must follow the state's Standard Operating Procedure, which can be found here: 
https://www.maine.gov/doe/covid-19/sop
.   Summary of key points (details at
https://5il.co/16xq8
) *Please continue to keep kids home when they're sick (see details here: link) *Where feasible, RSU #34 will provide basic notification when we learn of a positive COVID case, typically through bulk email notification of the impacted class/bus/team *RSU #34 has discontinued its 24-7-365 "COVID Hotline" - if you learn of a positive case please contact the school office *RSU #34 continues to require a screening & test process for those seeking to return early from 10-day isolation or quarantine -Those who test positive but meet certain criteria, including reliable mask wearing, may request an early return to school (process described further below) -Those who have exposure but meet certain criteria, including reliable mask wearing, may request an early return to school (process described further below) *Continuous exposure to positive household members continues to require additional precautions *In almost every situation, masking is now optional on school buses and in RSU #34 schools -Exception:  CDC still states that those returning early from a 10-day quarantine or isolation must mask until the completion of Day 10. -Staff and students will respect those who choose to continue wearing a mask -With this shift to optional masking in our schools, a quarantine exception in the state's SOP that kept many students in school is no longer available.  All are encouraged to seek vaccination and/or to participate in our weekly pooled testing; these would provide quarantine exceptions.  We are excited about these steps toward "normal."  Please join us in remembering that members of our school community have a variety of risk factors in their lives and in the lives of those they care about.  Please remember steps that feel liberating to some may feel frightening to others.  COVID-19 remains a serious disease; we will remain vigilant about further threats to in-person learning and consider adjustments as necessary.

Dear RSU #34 Community, As you are likely aware, there is great discussion going on in many school districts about the future of mitigation strategies such as mask wearing. RSU #34 is having those discussions as well, and I write to provide an update of where we have been, where we are, and possible paths forward. Like all Maine districts RSU #34 has some local latitude in how it conducts operations, but in combination with our safety concerns must also address things such as the state's Standard Operating Procedures and safety plans required for some of our federal funding. Like many decisions in education, mitigation strategies are both complex and complicated, involving unintended consequences, the need for understandable protocols that our youngest learners can follow, and - in the forefront - the diverse needs of our students and the staff who care for them. Throughout the pandemic - nearly two years now - our school community has done a fantastic job of rapidly adapting to the needs of the day to serve our students well. We have kept schools open as much or more than nearly everyone else in the state, have kept our focus on students, and have much to be proud of. Candidly, there have been many times that were "touch and go," particularly during the Omicron surge. Nationwide staffing shortages have impacted education as well as most other fields, and we have had some open positions all year. Substitutes have been very hard to find, to help us address the needs from those open positions, the frequent needs when our staff have been in quarantine or isolation, and the day-to-day absences for other illnesses. Our staff as a whole has pitched in tremendously throughout the year, covering each others' classes, taking on unusual responsibilities, etc., to make it all work and keep our doors open. Only twice this year were circumstances such that a school needed to go remote for a short time; we have worked very hard to avoid that. This school year, both through the protection they provide in slowing the spread of COVID, and through the opportunities they provide in the state's Standard Operating Procedure for COVID, mitigation strategies have had a huge impact, especially vaccination, masking, and our commitment to pooled testing. Recent weeks have seen a marked decline in our local cases from the peak of the Omicron surge. It is important to note that case rates are still very high; what seems low today compared to mid-January would have seemed awful in September. We are fortunate that while dangerous, the Omicron variant of COVID is somewhat more mild than its predecessors, especially to those who have chosen to be vaccinated. At its recent February meeting, the School Board reviewed what we are seeing locally, and chose to stay the course for one more month with our full set of mitigation strategies, including universal masking indoors at our schools. Many of us are hopeful that a shift to optional masking is near. We anticipate a bump in cases after the February school vacation (due to travel and other mixing), and will continue to closely monitor our cases. We will fully review the situation with the School Board at its March 16th meeting, and if the trend continues with case decline and more mild variants, hope to shift to optional masking soon after that. Under the current state Standard Operating Procedure, universal masking has kept a lot of kids out of quarantine. We urge our families to consider two actions. First, to sign up for our weekly pooled testing, which is a quick and painless swab (participation in pooled testing provides a quarantine exception under the state's rules). Second, we encourage families to seek vaccination, talking with their school nurse or primary care provider if they have questions about vaccination (vaccination provides another quarantine exception under the state's rules). This year we have begun to do more and more normal things - band concerts, athletics, after school programs, and more. We look ahead to the brighter days of spring, and with it, hopefully even more return to normal. Sincerely, David A. Walker, Superintendent of Schools

NEWS RELEASE Mills Administration Expands Eligibility for Free Mail-Order COVID-19 Tests to All Maine Households Ahead of School Vacation Week Maine DOE and CDC announce revisions to contact tracing guidance AUGUSTA— Ahead of school vacation next week, the Mills Administration announced today that it has expanded eligibility for Project Access COVID Tests (ACT), a partnership between the Maine Department of Health and Human Services and The Rockefeller Foundation that mails free COVID-19 tests directly to the homes of Maine people. The initial supply of tests, which was originally limited to certain vulnerable communities in Maine, is now available statewide, with every household in Maine eligible to order one set of five at-home rapid tests, regardless of ZIP code of residence. With February school vacation starting on Monday, February 21, the Mills Administration especially encourages families and school staff to order these free home tests as soon as possible. Testing before returning to school following February vacation week will help prevent the school-based transmission of COVID-19 as students and staff return on February 28. Any Maine resident can visit the Project ACT website, AccessCovidTests.org, to place their order. The program is limited to one order per residential address during this first phase of the project. No payment information is required — both the tests and shipping are free to residents – and the tests will be delivered through Amazon approximately one week after ordering. The tests require a quick swab inside each nostril, with results available within minutes. Any individual over the age of two can use the tests. Maine is one of six states partnering with The Rockefeller Foundation, a New York philanthropy, on Project ACT to increase access to testing. So far, 76,680 of 125,000 COVID-19 tests allocated to Maine for the pilot have been mailed directly to the homes of Maine people most in need, improving access to testing in vulnerable Maine communities. Maine residents can also order free tests through the national initiative at COVIDtests.gov. More information about accessing free, rapid, at-home tests can be found on the COVID-19 Testing in Maine website. "Expanding this project will bring free, at-home tests to families across Maine, helping to limit the spread of COVID-19 and keep Maine communities healthy as students return to school after February break," said Health and Human Services Commissioner Jeanne Lambrew and Maine Center for Disease Control and Prevention Director Nirav D. Shah. "We encourage parents and school staff to follow the thousands of Maine people who have already taken advantage of this opportunity to visit AccessCOVIDTests.org to order their free tests." The Maine Department of Education (MDOE) and the Maine Center for Disease Control and Prevention (Maine CDC) today also further revised the Standard Operating Procedure for responding to a positive case of COVID-19 in schools by suspending the recommendations for contact tracing. The previous guidance permitted schools with universal masking policies to suspend contact tracing. Now, regardless of masking policies, schools may suspend contact tracing. Those schools that have the resources to contact trace may continue doing so. These revisions follow other recent changes from the Maine CDC in light of the transmissibility of the Omicron variant. Additionally, following meetings between the Maine Departments of Education and Health and Human Services and the Maine School Superintendent Association last week, state officials continue to evaluate potential additional changes to policies to prevent the spread of COVID-19 in schools. Maine has largely followed recommendations from the U.S. CDC, including for face coverings, over the last year. However, assuming no forthcoming changes from the U.S. CDC and continuing favorable COVID-19 trends, Maine intends to issue its own school prevention guidance following February vacation, likely in early March. Since the fall of 2020, all Maine pre-K-12 schools have been providing in-person instruction to students. Throughout the pandemic, the Mills Administration has promoted safe, in-person learning, dedicating $329 million in Coronavirus Relief Funding (CRF) to Maine schools to help them educate Maine students. The Administration has also provided 10,859,586 face coverings, gloves, and other types of personal protective equipment to Maine schools and has supported COVID-19 testing in schools, including launching a pooled testing program. The pooled testing guidance has also been streamlined in light of Omicron, and schools have received rapid antigen BinaxNOW tests from the Maine Department of Health and Human Services. The Administration has helped organize vaccine clinics for school staff across Maine and supported more than 500 vaccine clinics for schools and students this past fall. According to Maine's Vaccination Dashboard, as of February 15, 2022, 54.5 percent of children ages 5 to 19 were fully vaccinated for COVID-19. Data from the U.S. CDC show that Maine ties for sixth best in the nation in the percent of 5 to 17 year olds fully vaccinated. As of the end of October, 83 percent of school staff were fully vaccinated. The updated public health guidance for responding to a positive case of COVID-19 in schools will be finalized by close of business today, February 16, and will be available here.

Hirundo Wildlife Refuge is offering a winter camp for kids during the February school vacation week! Themes include snow creations, tracking wildlife, foraging, winter games, and more! For more information or to sign up please visit
https://www.hirundomaine.org/februarycamp

RSU #34 Schools closed on Friday February 4, 2022 due to a winter storm.

Dear RSU #34 Community, You may know that Superintendent Walker is retiring at the end of this school year, after 17 years of service to the RSU #34 community. The School Board has formed a committee to conduct the search for RSU #34's next Superintendent. We seek your input in the search process! The Board has contracted with Maine School Management Association to assist with the search; MSMA will host a community input forum on Wednesday, January 26th, at 6:30 PM, by videoconference. If you'd like to attend the forum, please email
Jon.Doty@rsu34.org
for the video link. Board members serving on the committee are Hunter Umphrey (chair), Moriah Geer, Howard Jack, John Milligan, Laura Sanborn, and Dave Wollstadt. Staff representatives serving on the search committee are Brenda Dahlbergh, Kerri Dexter, Jon Doty, and Scott Gordon. Input about strengths, needs, and priorities can also be provided via a survey. The survey can be done anytime between now and February 4th through this link:
https://www.surveymonkey.com/r/RSU34SuptSearch
Thank you in advance for your input!

1/21/2022: RSU #34 has released new COVID protocols. Please read them in full here:
https://5il.co/14l6n
On 1/18/2022 the state released further clarifications to its requirements that need to be in place in order to complete part of the 10-day isolation and quarantine periods in school.  Supply to schools of rapid antigen tests has also increased, which opens an opportunity for us that we did not have in our earlier-January communication.  We have adjusted our most recent district protocol in the places highlighted on the full document.  Student athletes and coaches, for "return-to-play" considerations please pay particular attention to the isolation flow-chart and to the appendix.  Summary of Key Points (details at
https://5il.co/14l6n
): *There is currently great community spread of COVID-19 *Vaccination / boosting, participation in pooled testing, and reliable mask wearing remain key factors in slowing COVID spread and in avoiding quarantine *Those who test positive but meet certain criteria, including reliable mask wearing, may request an early return to school.   *Those who have exposure but meet certain criteria, including reliable mask wearing, may request an early return to school.   *Amidst this great surge in cases RSU #34 will be doing more notifications by group messages rather than individual calls/emails. *RSU #34 will accept clear, named, and dated home-based tests as an alternative to lab-based tests. *Continuous exposure to positive household members requires additional precautions.  *Evidence continually supports that with precautions in place, schools are very safe locations.