Class of 2023 Project Grad Bottle Drive! This Sunday10/16. from 10 AM- 2 PM - the pick up, drop off at Mahan's or people can drop off bottles and cans in the lower parking lot at the Old Town High School! Thanks again for your support!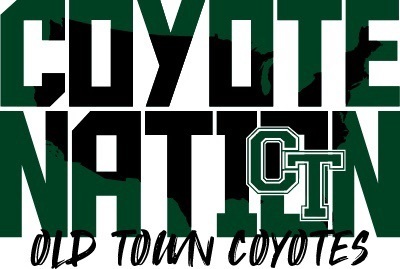 Updated events due to changes - changes in bold…

Couple of Soccer ⚽️ games with our neighbors further to the North, Vikings playing girls Varsity first with a 4-0 Yotes win, Vikings played Boys Varsity next and came away with a 4-1 W for the Vikings - Girls move to 8-2-1 holding 2nd, Boys move to 4-6-1 in 9th place…

Friday Night OTHS was able to honor Gabe Gifford for winning PVC Pitcher of the year for Class B Baseball ⚾️- Congratulations Gabe on your accomplishments!

OTHS Events - Week of 10/10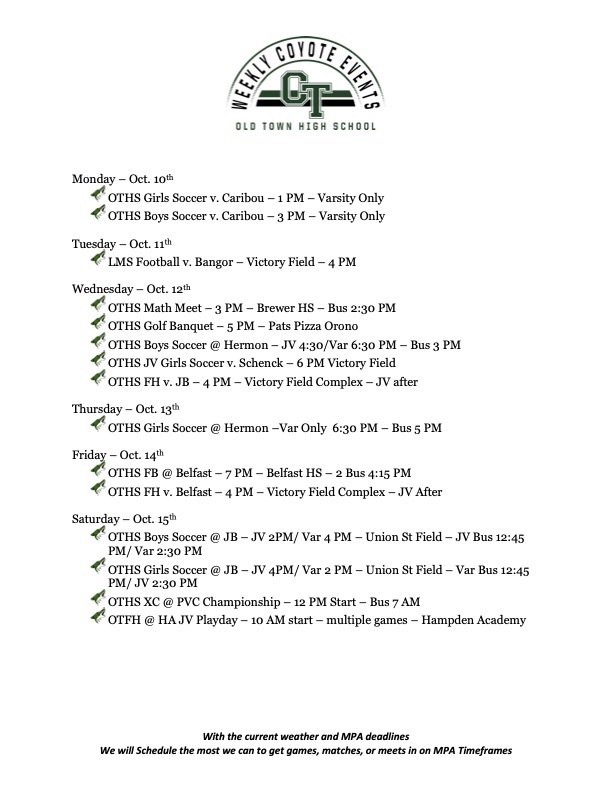 Girls Soccer ⚽️ finishing up the day of sports for the Coyotes hosting the Wildcats of PI - Varsity saw a lone goal from Gabby C. But was not enough as the girls fell 2-1 - JV locked PI up with a 1-1 tie in a 7v7 game…. Varsity only on Monday…

Congratulations to Nate B and Charlotte B at MPA Class B North State Golf Meet - Nate finished T 31st and Charlotte finished T 4th place… Good work representing OTHS Golf ⛳️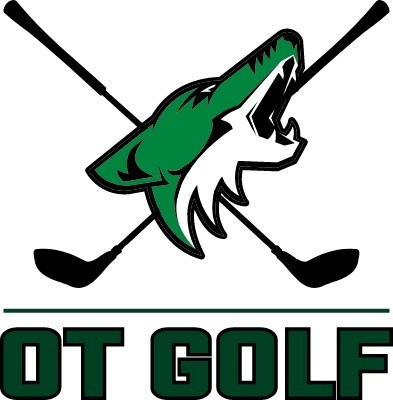 The Girls and Boys Cross Country teams were in action today at the Greater Houlton Cross Country Invitational. The girls team finished up in 5th place and were led today by Lida Kanoti in 14th with a 5K personal best, Annie Roach in 16th and Zoe Yerxa in 22nd. For the boys team, which due to illness was unable to receive a team score, Wyatt Byther in 10th, Hayna Francis in 18th with a 5K personal best and Connor May in 22nd led the way. The teams travel back to the county next Saturday for the PVC Large School Championship Meet in Caribou.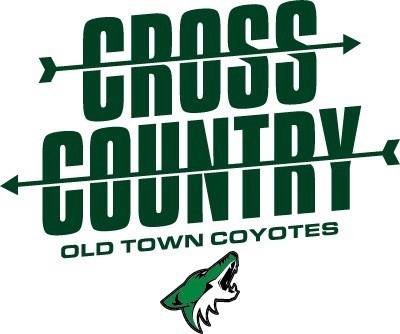 OT Boys Soccer ⚽️ playing our neighbors to the North P.I. - Varsity with another fun game with Goals from Josh H and Grayson T for a 2-2 tie - JV found a bump in the road with a 3-0 loss to the Wildcats.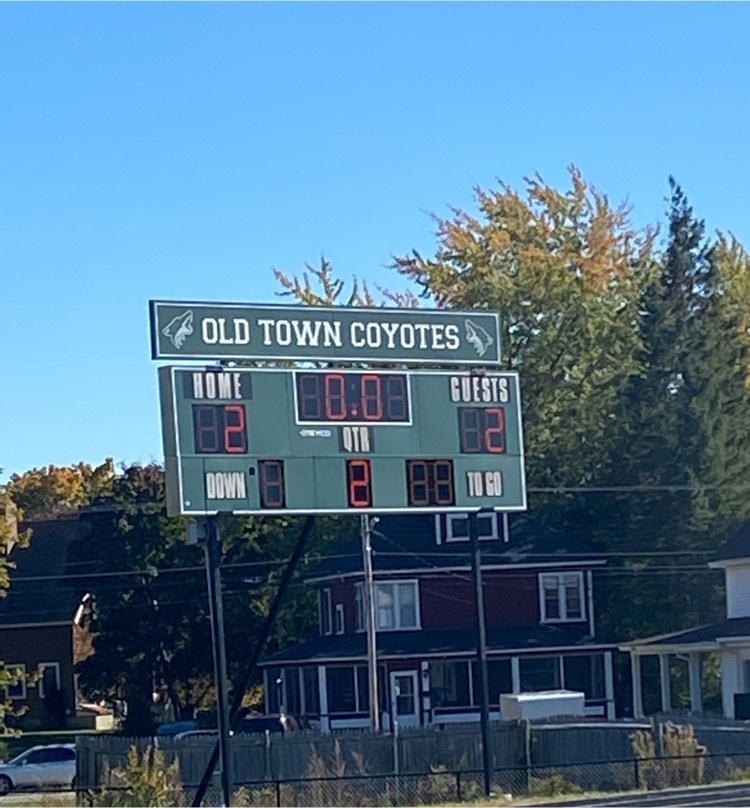 OTFH 🏑 in action for Senior Day at Victory Field Complex v. Brewer - Ladies had another tough competition losing 1-0 to the Witches - Seniors, thanks for your commitment and passion over the years! Best of luck - JV pulled out an awesome 1-0 win and continues the 7v7 dominance!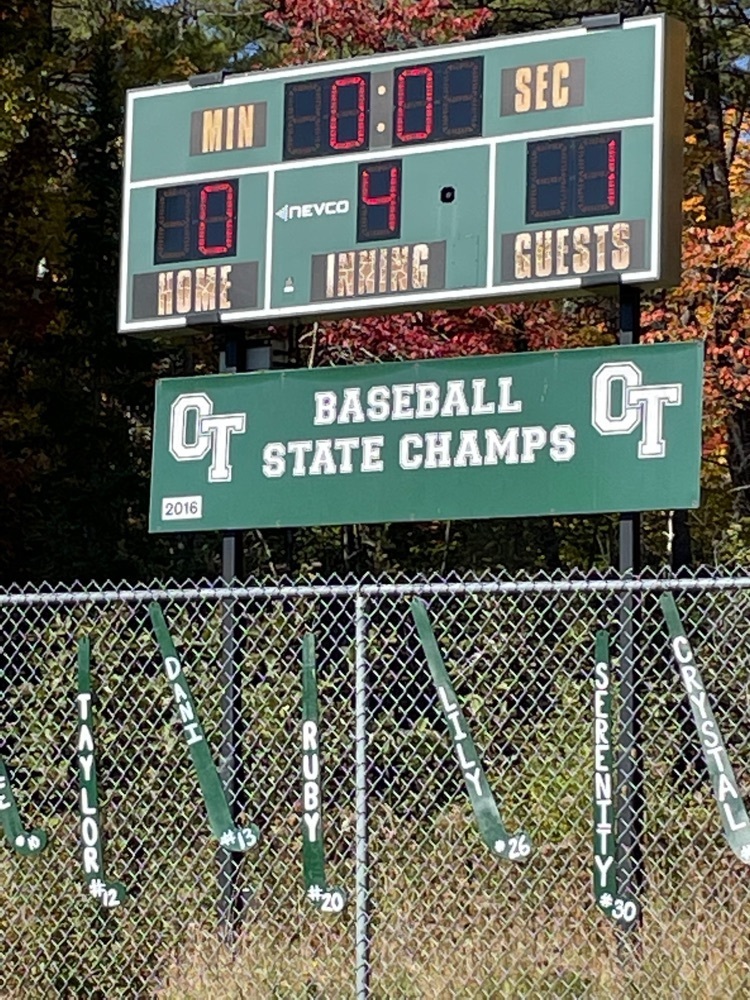 Coyote Football enjoyed some firsts and lasts tonight at Victory Field against Madison - First win for the team and Coach Beale as head coach 42-30 W - Lasts for our Seniors as this is the last home game of the season - Thank you for your time and years with the program!

Reminder - We have no school tomorrow, Friday Oct. 7th due to teacher in-service and no school on Monday, Oct. 10th as it is a holiday… Enjoy the weekend…

Coyotes prepping for the future! 52 Sophomores and Juniors took on the task of prepping answer sheets for the PSAT that they will be taking next week! Best of luck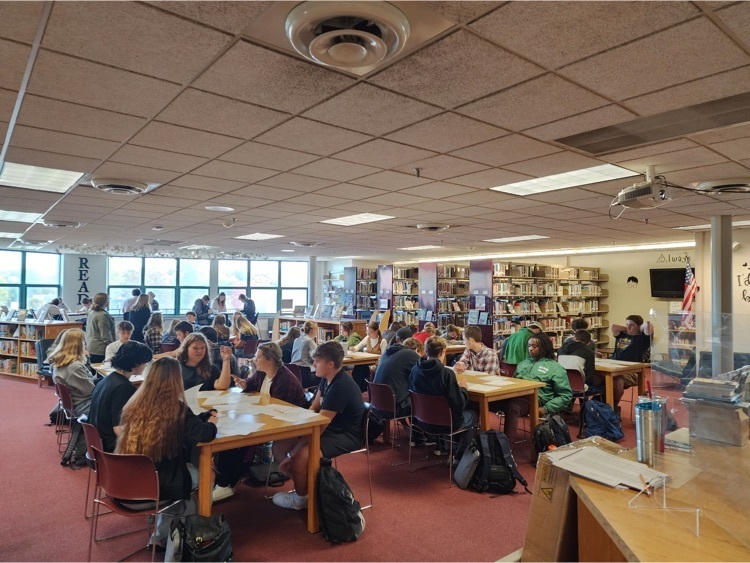 Class of 2023 Reminder: Baby Photo and Senior Write-up are due on Monday 10/10 Senior Photos are due on Friday 10/14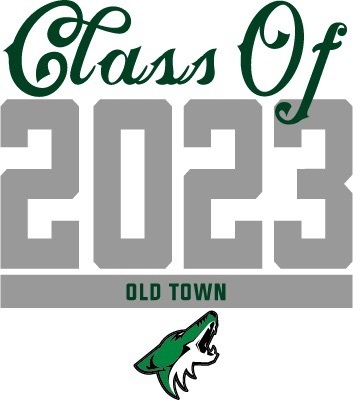 The Coyote Battalion hosted the 3rd Annual Mogadishu Mile on October 3rd. The event is a fitness challenge that commemorates Operation Gothic Serpent that took place in Mogadishu Somalia on October 3-4, 1993 and the 19 service members who lost their lives that day. Cadets from UMaine ROTC, Bangor High School JROTC, Old Town High School JROTC, and Old Town High School faculty members accepted this year's challenge, there were 34 participants in all. Medals were awarded to the top three male and female finishers. During this mission, Task Force Ranger comprised of 160 US Special Operations Forces conducted an operation to detain key leaders of the Somali National Alliance in order to reduce Mohamed Farrah Aidid's grip on the war torn nation. Fierce fighting broke out as this elite force was surrounded by Habr Gidr militia and thousands of civilians. While ground forces moved to secure a downed Blackhawk helicopter a second Blackhawk, Super Six Four, piloted by Warrant Officer Michael Durant was also shot down. Friendly forces were unable to move to the second crash site and the surviving crew. In an act of selfless service, Delta Operators Master Sergeant Gary Gordon and Sergeant First Class Randy Shughart volunteered to be inserted into the crash site of Super Six Four. Upon arriving at the site they aided the crewmembers and established a perimeter to defend their position. Ultimately their position was overrun by hostile forces, and Warrant Officer Durant was the only survivor at the crash site. He was captured by the Somali's, and held for 11 days before being released to U.S. forces. Master Sergeant Gordon and Sergeant First Class Shughart were posthumously awarded the Medal of Honor for their heroic actions that saved the life of Warrant officer Durant, and represented the oath that they and their peers carried into battle that day. 1st Place Male – Dan Desmond (OTHS) 2nd Place Male – Colby Hatch (OTHS) 3rd Place Male – Garrett Engstrom (UMaine) 1st Place Female - Kristina Littlehales (UMaine) 2nd Place Female - Kerry Lefebrve (UMaine) 3rd Place Female – Eva Coombs (Bangor HS)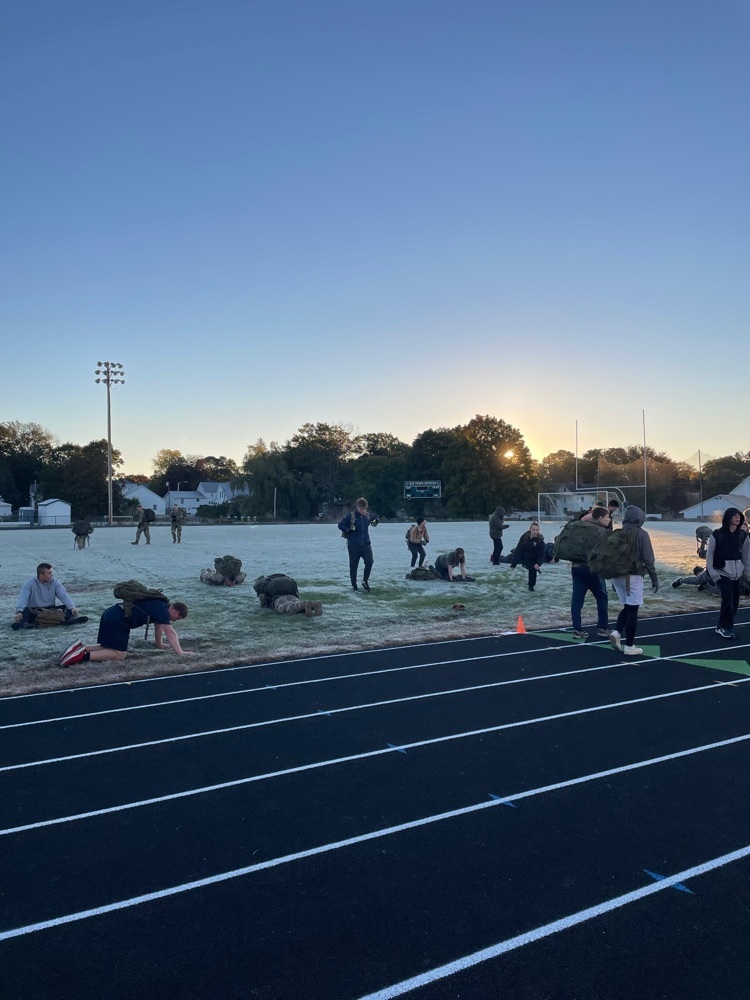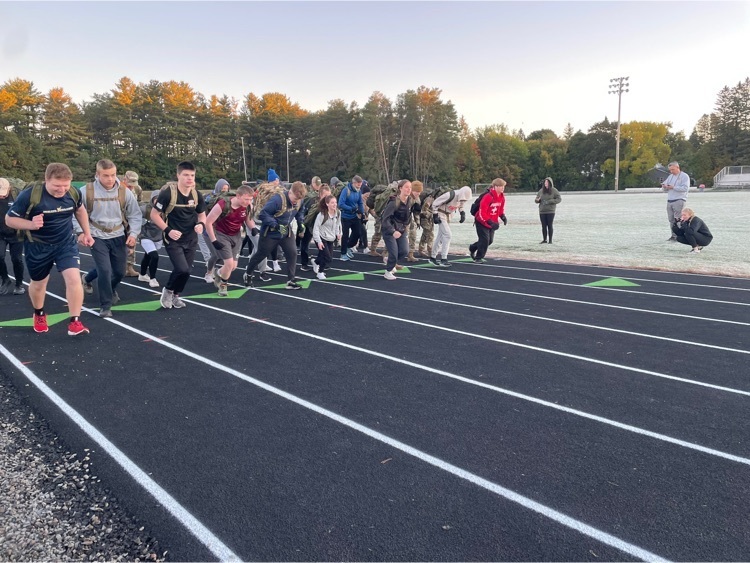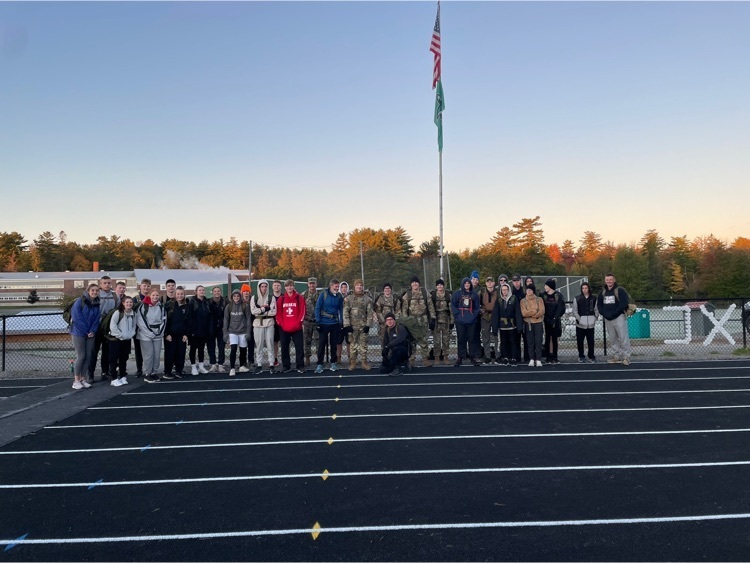 Updated events for Oct 3 week

Congratulations to Mr. Ed Lindsey on earning October 2022 Staff of the Month - Voted on by the students!

It's been a great day for RSU #34! This morning our grant application was approved for $70,000 in supplies to support Computer Science learning at all of our schools; this will support and expand our current coding and robotics efforts, and give us new capacities in virtual and augmented reality. Many thanks to our STEM specialists Mrs. Daniel and Mrs. Zabierek for their hard work in preparing the grant application. Our schools have been leading the way in robotics and coding since a 2012-era community fundraising effort! In addition to our in-school programming for all students, over the course of the past decade competitive robotics teams from LMS and OTHS have each earned their way to international competitions. Then at lunchtime, the Department of Education announced that RSU #34 is one of just four grantees statewide under the Community Schools program. This $50,000 grant will enable us to continue our existing community outreach efforts led by Mrs. Goodwin. Many thanks to her and Mrs. Wilcox for their hard work preparing that grant application. $120,000 total in grant awards is a great way to end a busy week!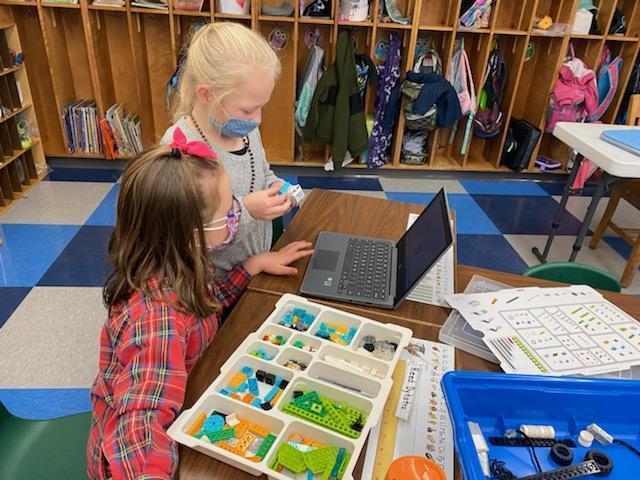 Girls Soccer tonight - battle of the tops as the hawks came to town - Varsity suffered its first loss with a 3-1 L - JV playing a tight and fun game with Brewer that ended in a 3-3 tie - JB up next on Saturday…

Information for the class of 2023 - Financial Aid and the College Application Process - Information to be successful with the college process - On our Coyote Events Network Youtube Channel -
https://youtu.be/aWQQXbU_RIk