Right around the corner Yote Nation… Spirit Week competition for homecoming week is here… start earning winter carnival points for your class during this week!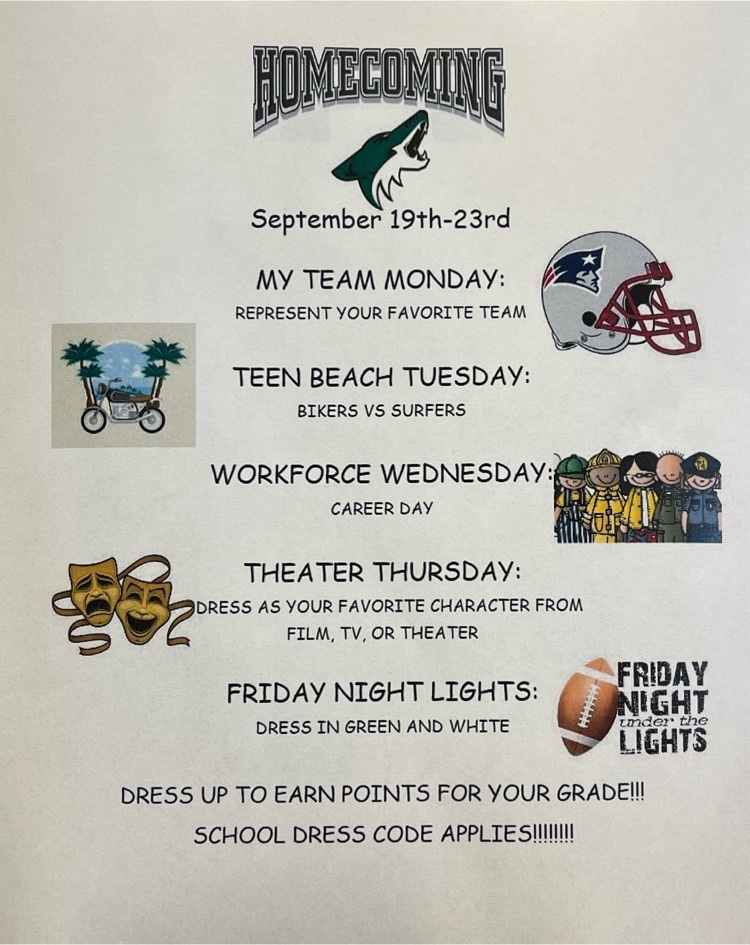 Come join our cheer team for a night of fun before our Riverfest Games!

RSU 34 Resource Center - see flyer for details and information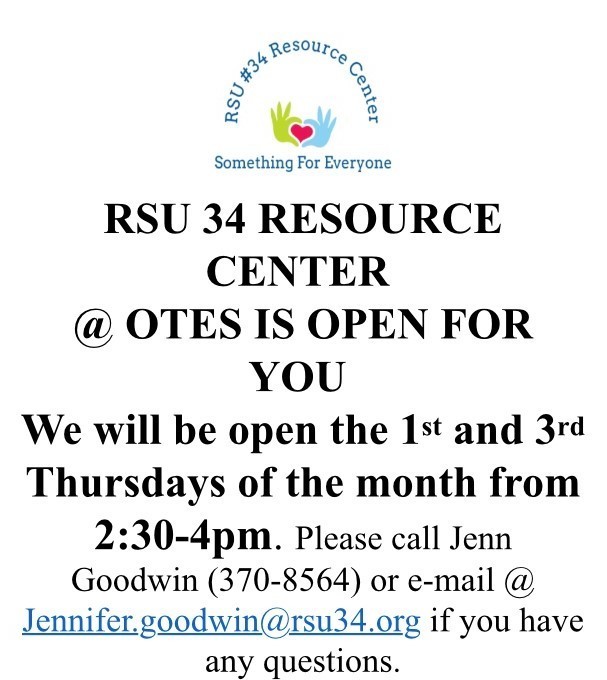 GAME Alert - FH game v. Belfast today, Sept. 14th is postponed to a later date - More information to come on a makeup date.

A never give up kinda night for the Yotes - Boys Soccer ⚽️ hosting the Hawks, playing on the back of #6 Josh H as he had 3 goals and 1 assist, Grayson T and Kameron P adding another for a 5-4 overtime win! JV played after and continued the never give up - 3-1L but a Tyler M goal with 7.8 seconds left supported the theme of the night…

Due to incoming weather, tonight we have flipped the OTHS Boys Soccer games - Varsity will play at 4:30 PM/ JV will play after (weather permitting)

🏑 OTHS FH on the road to the Crusaders - Varsity continued the winning on the backs of Grace W. And Kayleigh W goals - 2-0 W, JV with a Lindsey M. Goal and a 1-0 W - Big game on Wednesday v. rival Belfast…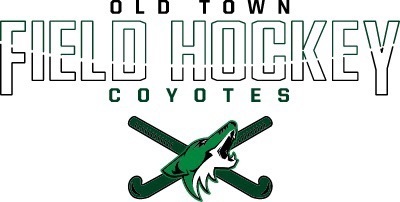 OTHS Athletic Events - Sept 12th Week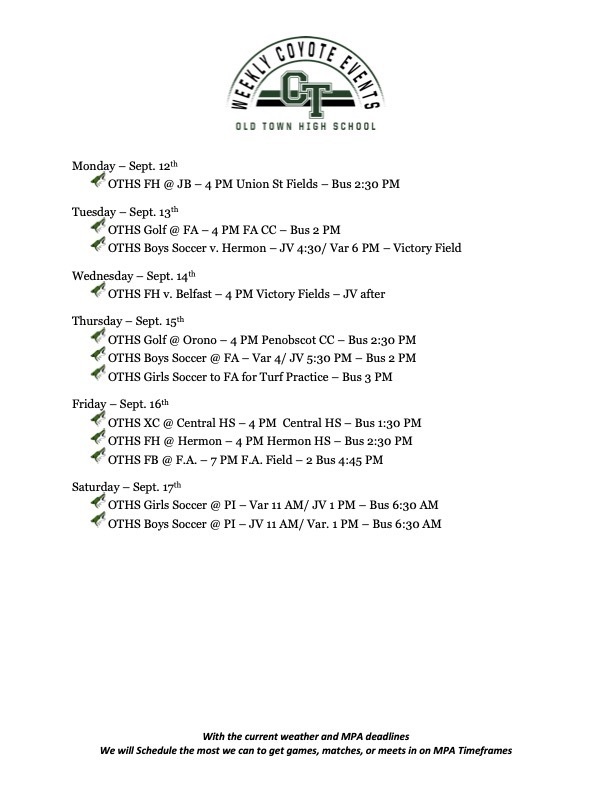 The Boys & Girls Cross Country teams were in action today at the Presque Isle Invitational. The boys team turned in a strong team perfornance finishing up in 3rd place led by Spencer Gordon in 7th, Wyatt Byther in 9th, Griffin Murray in 20th, Connor May in 21st & Hayna Francis in 23rd. The girls team did not figure in the team scoring, but received strong indvidual performances from Lida Kanoti in 9th, Annie Roach in 11th & Chloe Henry in 36th. The teams return to the trails next Friday at Central.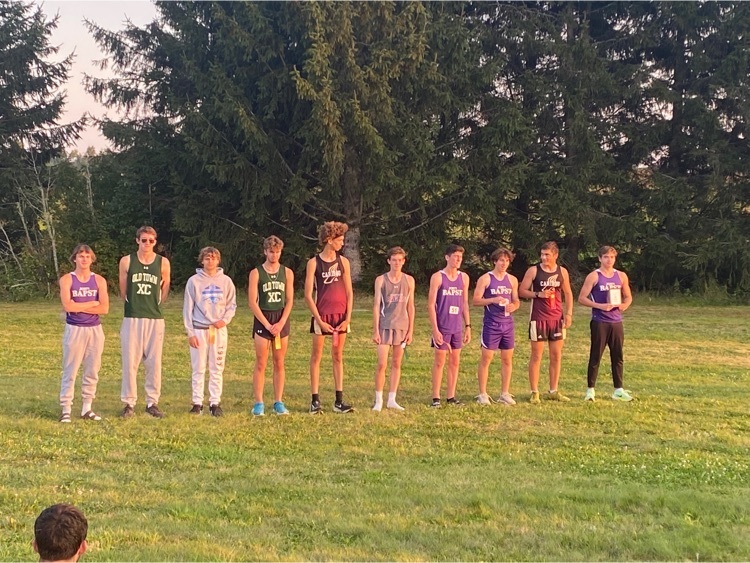 The end of week 1 Yote Nation, great first week, thanks for the hard and effort put in throughout the week! Enjoy the weekend…

Historical Traditions Started tonight as the OTHS football 🏈 team played Thursday Night Football at UMaine v. JB - Not the outcome the Yotes wanted, 31-0 JB W, but with each down we learn and grow… A much needed couple days off and we are back at it on the road to FA!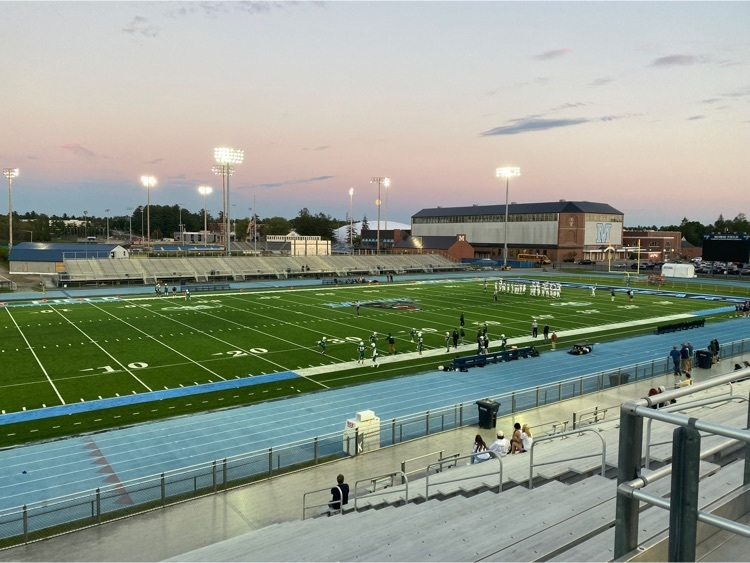 Lady Coyotes traveled to Foxcroft Academy this evening to take on the Ponied. Varsity had a hard fought battle winning 3-2. Rhiannon B. scored the first goal off Kayleigh J. cross. Rhiannon B. pick up the second goal of the game from a PK. The ponies came back scoring a goal off a breakaway. The lady coyotes kept fighting with a Gabby C. goal from a corner kick. Ponies had a PK themselves and scored there last goal. The JV team played a good game winning 3-1. Taylor M. scored the first goal of the game. Followed by an Ava B. goal that was assisted by Taylor M. Another goal scored by Taylor M. with an assist from Ava. H. Emily W. & Keely K. contributed in goal! The lady coyotes head up to P.I. next week to take on the lady wildcats!

🏑 OTHS FH 🏑 playing host to FA Ponies at Victory Fields today. Grace W with the only goal of the contest as the Coyotes move away with a 1-0 W - JV played an intense game ending in a 1-1 tie…. Great start for the Yotes so far!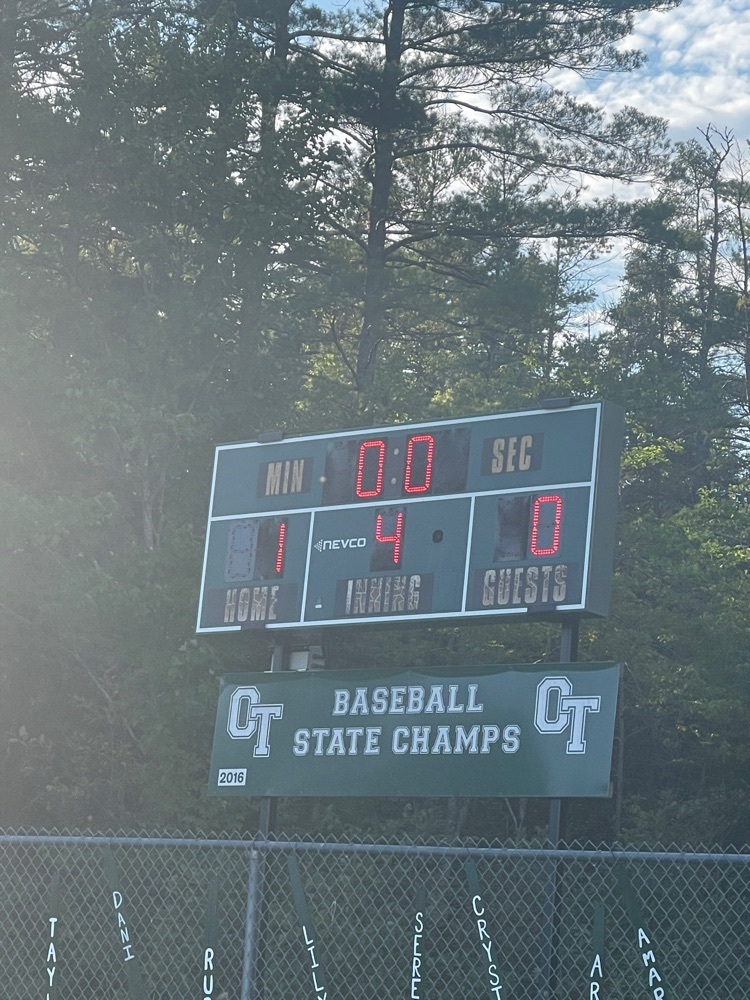 JV Golf ⛳️ teeing it up at Pine Hill CC v. JB last night - teams first match of the season, JB 241 OTHS 255 - Jack A 64, Ian D 61, Cameron R 66, Ian A 64, Austin E 68, Aiden E 73 - good start to the season!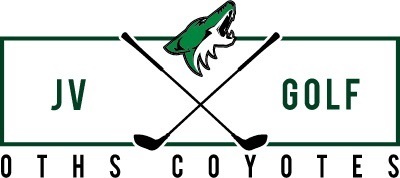 🥅 OTHS Boys Soccer ⚽️ continuing the Coyote Sports winning streak tonight as they play host to cross river rival Orono - JV boys with a 6-1 W to start off the night, Varsity with a 11-0 W to close out the night… Hawks fly into town next week - Tuesday 4:30/6:30 PM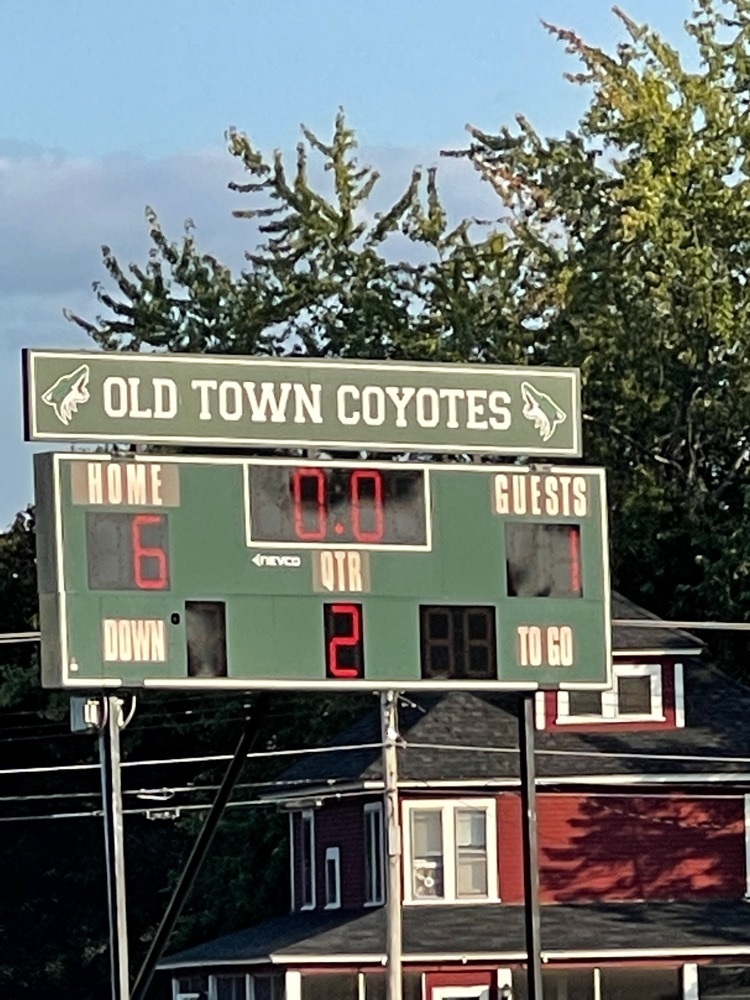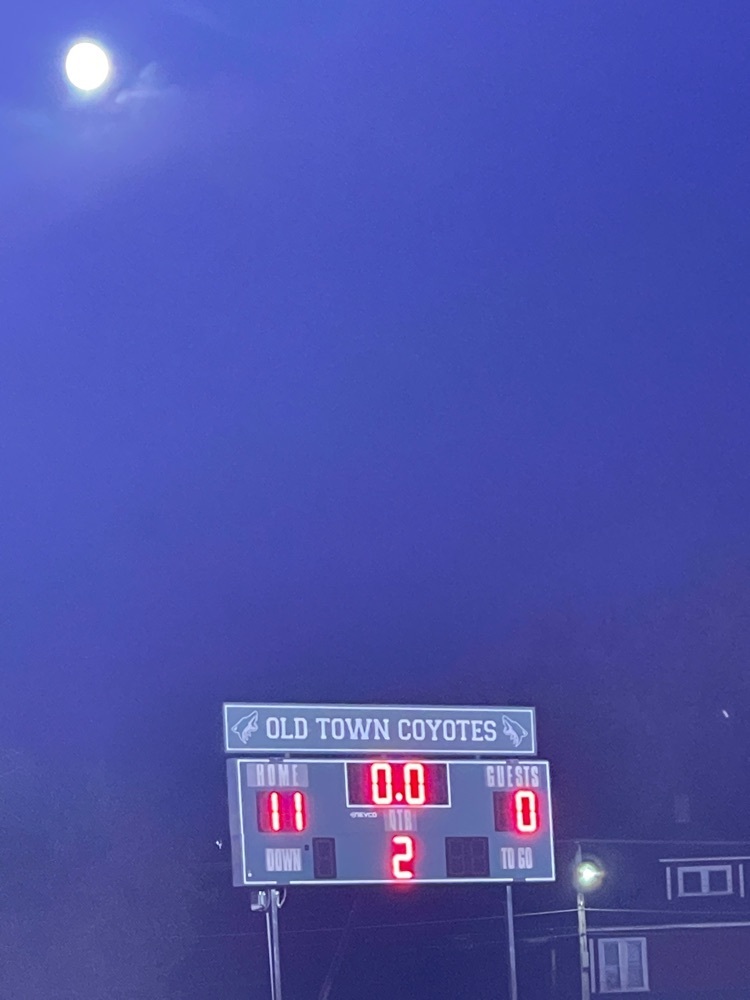 OTHS Golf in action yesterday at Hidden Meadows welcoming Orono and MA - team moved to 4-6 record on the year with a 3rd place finish yesterday - Team lead by Nate B 41 and Charlotte B 42 - next up, JV match today…

OTHS Girls Soccer ⚽️ welcoming the Red Riots to town - Varsity: 2-0 at halftime and Yotes kept the shots on goal winning 8-0. 2 goals each by - Mikayla J., Karina D. & Alexis D. 1 goal each by - Rhiannon B. & Bella D. JV: 4-0 win against Orono! 2 goals scored by Ava B. and 1 goal each for Karina D. & Ava H. Shutout in goal by Emily W. & Keely K. - Ponies up next….

OTHS FH in action today v. Class A HA - Yotes came out to play and walked away with a 2-0 W. Moved the Coyotes to 2-0 on the season. Goals by Kayleigh W and a goal and assist by Karma R. - FA on the schedule next for the Coyotes…

Welcome Back Students - The staff at OTHS is excited to welcome you to the 2022-23 School Year - A couple of reminders for tomorrow - doors open at 8 AM, tomorrow is a GREEN day, bus drop off /pick up is the front of the school, Parent drop off/pickup is around the shop loop out back, we will be starting "Coyote Time" tomorrow and these lists will be posted for students tomorrow - Once again welcome back, we are happy to see you all!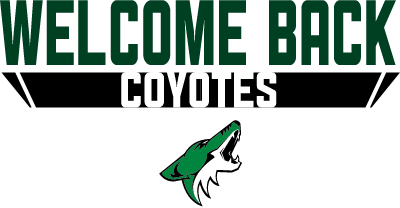 OTHS Boys Soccer with the home opener v. a strong MDI team at Victory Field - Boys fought and played hard to a 4-2 L to open the season. JV had a strong showing during the 8v8 game with a 3-1 W….