Great Overtime win for the OTO Hockey team up in the county v. a talented PI team... OTO 5-4 over the Wildcats! Another big game on Monday, at Sawyer Arena v. Bangor 5 PM JV/ 6:30 PM Varsity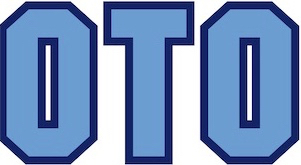 Great Swim event for the OT Swim teams tonight at GSA - Girls OT 68 GSA 41, Boys OT 99 GSA 48 - next meet is on the road to ELL on Friday Jan 18
Good Morning – Last night, OTHS received information about a statement made by a student threatening the well-being of our students and our school. The statement was reported to the OTPD and we worked in conjunction with them to determine the credibility of the threat. The OTPD put a lot of time and effort into their investigation and has determined that there is no credible threat. OTHS is open for the school day and all activities as normal. The safety of our students and our school is of the utmost important.

Raiders in town for a varsity double header... Girls played a solid game winning 55-32, Boys struggled and fell to W.A. 61-29 - Boys and Girls in action on Saturday for a four game outing v JB

The next parent meeting for Project Graduation will be Saturday, January 12 at 10 AM at the Elks Club. We are looking for help selling tickets for the Bell's IGA shopping spree on Saturday from 11 AM to 5 PM. Please contact Mr. Gordon if you or your student are available.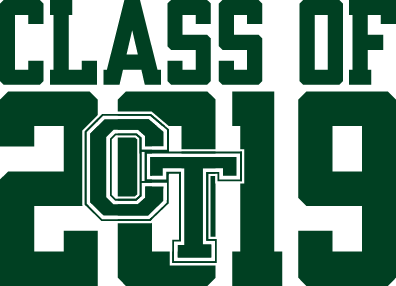 Today, Jan 9th - all after school activities for RSU 34 are canceled - Girls and Boys Varsity Basketball will play tomorrow Jan 10th, OTO Hockey will play Bangor Jan 14th - Varsity Only

WA canceled on playing tonight, Jan 9th due to Weather, understandable as the weather is going to be tricky. We will be doing a double Varsity game tomorrow, Jan 10th - Girls at 5:30 PM/ Boys at 7 PM. JV games will be made up more info to come... Stay Safe

Congratulations to Chris Albert on winning the Northern Region Free Throw Tournament at MA on Sunday, he will now move onto the State Comp at the All-Star game and represent OT Basketball!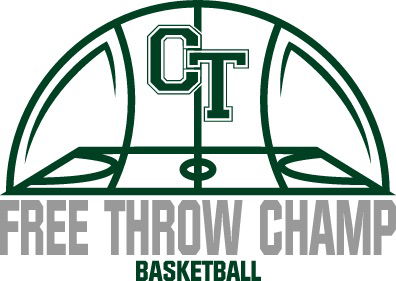 Rescheduled MV girls basketball game from this Saturday - Rescheduled for Jan 31st - 6PM Game

Updated Athletic Events - Jan 7th week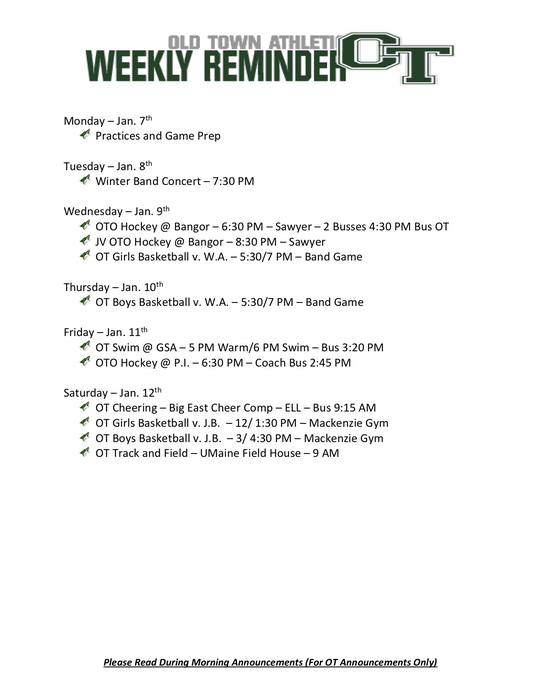 PVC-EMITL Relay Meet today, boys team finished 3rd and the girls team finished 4th. Individually, Emma Hargreaves broke her own school record in the Shot Put with a throw of 38' 5.25"!

OT Cheer at H.A. Competition and on the comp mat for the first time this year! These ladies are the definition of adversity, keep working hard and you will go far! Congratulations ladies!

OT Boys Basketball on the road to MV... Coyotes split with a win and loss - JV pulling a great win out 60-49, Varsity lost 49-58... Next week has the Coyotes home v. WA on the 10th

JV Girls in action at home against the Bangor Rams.... girls played a tough game and almost pulled a great win out... lost 27-33.... No make-up date yet for MV Varsity game.

OT swim at Brewer - boys and girls swam a great meet, boys won 102-38, girls meet came down to the last heat 96-86 win for the Coyotes - Swim next meet is Fri 11th at GSA!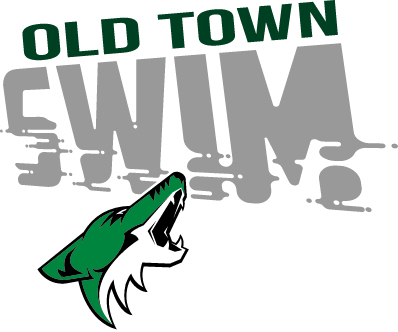 Ponies again host to the Coyotes tonight at F.A. - Varsity with a 41-29 victory, JV with a solid win as well 37-23.... Girls play tomorrow - JV plays Bangor at 1pm, Varsity plays MV at 2:30pm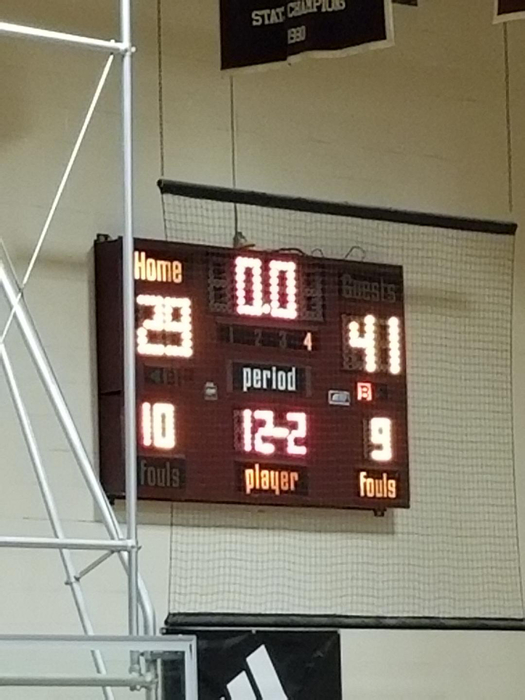 Coyotes and Ponies facing off tonight at F.A. Varsity Boys lost a tough one 51-49, JV had a dominant performance 45-26... Coyotes on the road Sat to MV for an afternoon game...

OTO JV Hockey in action at Brewer... great game as the Black Bears end in a draw again the Witches.... next game will take place on 1/9 at Bangor for the JV team....
Thank you Coyote Nation for a great 2018! Here's to a great 2019 - keep making OTHS great!

Basketball Report- Wildcats sweep the Coyotes in the county today, PI took all 4 games between the B/G JV and Varsity teams! Boys play on Thur. and Girls play Friday at F.A. - bus 3:30 PM